Custom Vehicle Tags in Marianna, FL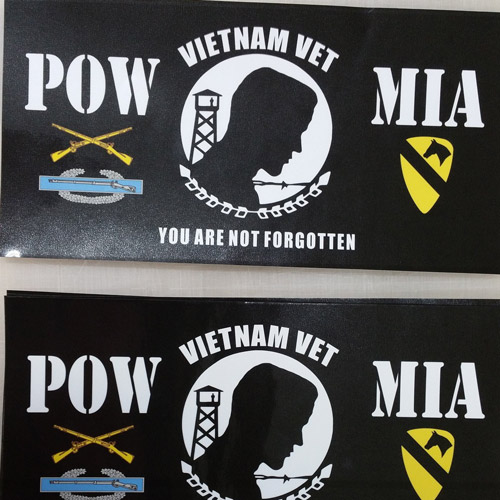 The State of Florida only requires a single license plate on the back of your vehicle, which means your front plate holder is available for advertising space! If you're looking for a subtle way to brand your fleet or advertise your business, consider custom vehicle tags in Marianna, Jackson County, Cottondale, and Greenwood, FL. It's a simple, subtle way to distinguish your automobile.
Southern Mobile Media Group designs and fabricates custom vehicle tags for all types of vehicles and customers. From vanity plates that have your business logo, to tags that have important contact information for your company, we help you make the most of your front bumper's marketing capacity!
Why Vehicle Tags?
Vehicle tags are a simple form of mobile advertising, but an effective one nonetheless. They're the perfect way to put essential information on your vehicle, or every vehicle in your fleet. If you're thinking about investing in custom vehicle tags in Marianna, FL, be sure to remember the many great benefits that go along with them:
Subtle, straight-to-the-point messaging
Well-placed right where people can easily see
Your advertising goes wherever you do
Non-invasive, easy installation that you can do yourself
Simple advertising message that people can remember
Whether you're using vehicle tags to distinguish specific vehicles in a fleet or putting your phone number and website on out there for everyone to see, we're the experts at helping you customize and make the most of vehicle tags.
Customize Your Fleet
Fleet vehicles in particular benefit from vehicle tags as a simple form of mobile advertising. Many companies choose to put their phone number and website on a vanity plate, as well as a slogan or other important branding. We can also customize tags to help you keep each vehicle in a fleet distinguished. Ask us how custom vehicle tags can benefit your fleet!
Simple, Impactful Advertising
Choose Southern Mobile Media Group to help you design, create and install custom vehicle tags and we promise plates that help you make the most of your front bumper's capacity to advertise. Contact our design team today at 850-526-7446 to learn more about the powerful branding and advertising possibilities of vehicle tags, graphics, magnets, and wraps.